Toledo is an hour southwest of Madrid, built on a mountain rock that the Tagus River wraps around, providing a natural mote on three sides.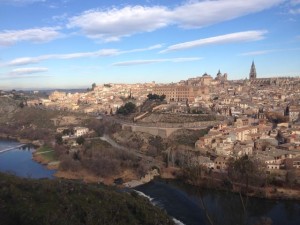 The Romans built a city here they called Toletus in the 2nd century BC near the Roman road that connected east and west. The Arabs built a walled city with an alcazar on the highest point. They ruled southern Spain for almost 800 years.
When the king of Castile, Alfonso VI re-conquered Toledo in 1085, he allowed freedom of religion and Toledo was known as the kingdom of three cultures. Toledo became one of the most important Jewish cities in Spain.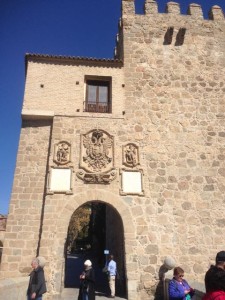 Unfortunately, in 1492, when Ferdinand and Isabella re-conquered Granada, religious tolerance ended and Jews and Muslims were given a choice of conversion or exile. Toledo lost 1/3 of its population. The synagogue of Toledo (which had been built in 12th century by the Arabs) is the second oldest in Europe (the synagogue in Prague is the oldest). All of the synagogues and mosques in Toledo were destroyed except this one because it was turned into a chapel of St. Mary.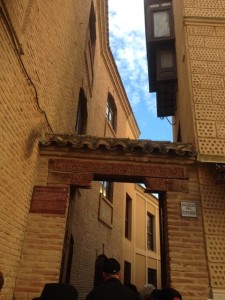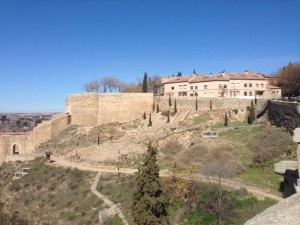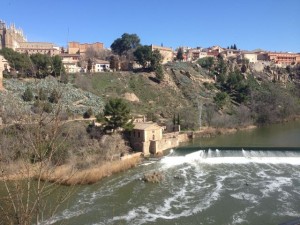 El Greco lived for many years in the city and painted "The Burial of Count Orgaz" in the Cathedral of Toledo.
Toledo is a Medieval town of narrow winding cobbled streets, many with doors or gates that could be closed at night.
From Toledo, we drove to Granada through La Mancha through planes of olive groves and blooming almond trees that gave way to rolling rocky hills of olive groves and almond trees. (Olives were brought to Spain by the Phoenecians.) The closer we got to Granada, the more rocky and mountainous the terrain but the rows of olives still stretched as far as we could see. We stopped in a small town with a central courtyard and a display of the many editions of Don Quixote.