The Temple of Heaven is 5,000 acre park in the middle of Beijing where the Ming and Tang Dynasty emperors paid homage to heaven.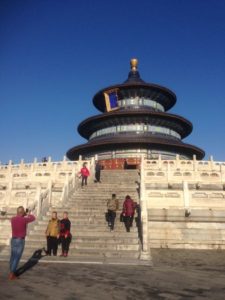 Built in 1420, the three-tiered temple was the Temple of Heaven and Earth, with the top tier painted blue for heaven, the middle tier painted yellow for the emperor, and the lower tier painted green for earth, but in 1530 it became the Temple of Heaven and a separate Temple of Earth was built elsewhere. Today, it is a park where people exercise, and gather to play cards and chess.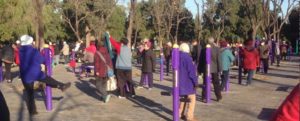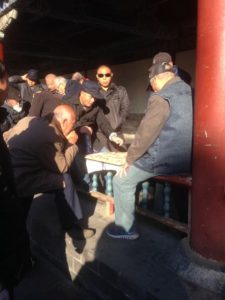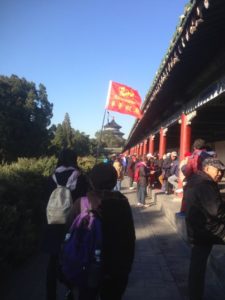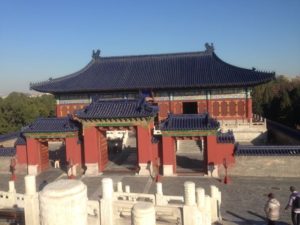 In the Seven Star Stones garden (that represent the seven peaks of the mountain Tai), matchmakers gather to arrange marriages.
Next, we visited a silk factory where we saw an old machine that spins silk thread from silkworm cocoons.
The silk from eight cocoons is gathered to make one silk thread. Single cocoons are used to make silk thread for cothing, and double cocoons are used to make silk comforters. The double cocoon silk is stretched to comforter size.
Tienenman Square is best known for the 1989 face-off between protesters demanding greater democracy and government troop and tanks, best symbolized by a line of tanks stopped by a single protester who stood in front of the tanks. The interesting thing is that even though that image is ingrained in our minds, young Chinese have never heard of it. The protest was not covered in the news and is not taught in schools. Although China used to be full of images of Chairman Mao, one of the few images of Mao today in is Tienenman Square on the entrance to the Forbidden City.
The Forbidden City is an unbelievable sight that was begun in 1420 and completed fourteen years later, with the help of one million workers. It is said to have 9999 rooms but a recent survey showed it was closer to 8400. It is one of the most remarkable places I've ever seen.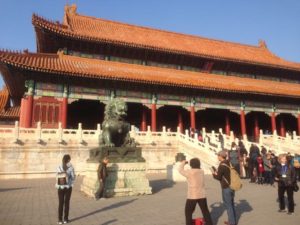 The sheer size of the place boggles the mind, and we saw less than 1/3 of the site. It seems to go on forever, palace after palace, courtyard after courtyard, gate after gate, throne room after throne room. I have never seen so much detail in the elaborately painted ceilings, roofs, fretwork, and the sheer size of the courtyards.

Although the living quarters of the Emperor are closed for renovation, the Dragon Mother's, the mother of the emperor's quarters were open. They were filled with elaborate carved woodwork, jade and porcelain artwork and statuary. Beyond that, the Imperial garden were another wonder.
The Forbidden City is surrounded by a large moat, a man-made river that connects the Forbidden City with the Summer Palace outside the city.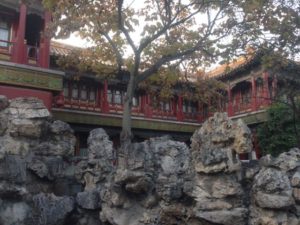 After yet another amazing meal where a dozen dishes rotated on a lazy Susan, we went to the Peking Opera, a centuries-old, stylized art form that features elaborate costumes, heavily made-up faces, high-pitched voices, and traditional Chinese instruments. The highlight of the show was the elaborately choreographed pole kicking number in which five performers tossed and kicked a dozen poles between them. [Videos to follow when YouTube is accessible.]