The Great Wall
We visited the Badaling section of the Great Wall that covers four thousand miles across northern China.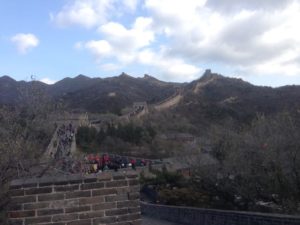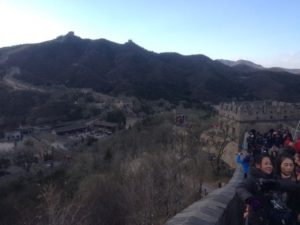 Qin Shi Huang, China's first emperor, who unified the seven kingdoms, is responsible for both the Great Wall and the terra-cotta warriors. Each of the seven kingdoms had a wall around it, and when Qin unified the kingdoms, he joined the northern walls to protect from invasion from Mongols. The largest scale construction of the wall, however, was during the Ming dynasty. When we visited the wall, there were crowds of Chinese tourists, but nothing like the crowds during July and August.
Ming Tombs
Thirteen emperors from the Ming Dynasty (1368-1644) are buried in this large site, much of which remains unexcavated. When a Ming emperor died, all of his childless concubines were entombed alive in a separate concubine's tomb.
A museum houses artifacts from the Ming Dynasty, including ceremonial garb, jewelry, and scrolls. This jade headdress features dragons and phoenixes.
The grounds are filled with ancient trees with sprawling limbs held up by supports made to look like tree trunks.
Tea Ceremony
We visited a tea house and watched a demonstration of a tea ceremony. We were treated to ginseng oolong tea, jasmine green tea, lychee tea with wild rose buds, and puer imperial tea, each of which has distinct health benefits.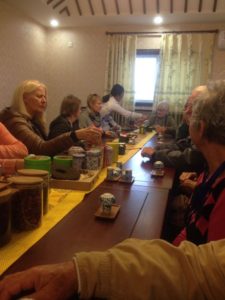 [Video of tea ceremony to be added but YouTube blocked in China]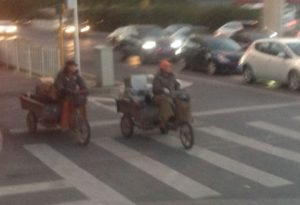 As we drove through the traffic in Beijing, we saw lots of modified scooters being used for all kinds of transport.
After all of that, we went to a Peking duck dinner with a dozen dishes culminating in Peking duck.