Sevilla was a surprise. I never expected to fall in love with the city as we did. The weather was lovely, the orange trees were in bloom perfuming the streets, and both the Plaza de España and the Real Alcazar were beyond anything we imagined.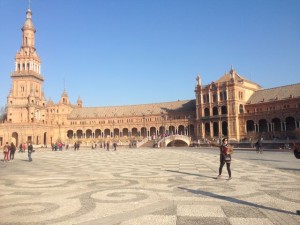 The Plaza de España was built for the 1929 Iboamerican exposition and was a spectacular display of architecture and tile. Sevilla was the port from which all the explorers departed for the Indies (Magellan and Columbus among them) and it received much of the wealth of the new world.
The walls that protected Sevilla were built by the Romans and restored by the Moors who built an alcazar inside the walls. The Christians had a terrible record of treatment of the Jews here as elsewhere in Spain (and Europe), killing 80% of the Jewish population at the end of the 14th century and expelling the rest in 1492.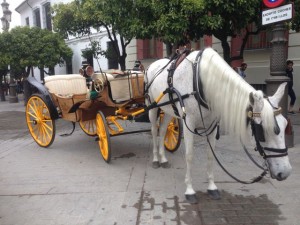 The horses in Sevilla are the prettiest I've seen, a mix between Arabic and Andalusia breeds.
The Cathedral of Sevilla was built over the old mosque, retaining the original square Giraldi tower.
When the tower was part of the mosque, the ramp (34 flights) leading to the top of the tower was used to ride a donkey to the top for the call to prayers.
It is the 3rd (now 4th) largest gothic cathedral in the world (after St. Peter's in Rome and St. Paul's in London). It was built in just 70 years from 1482-1552 with lots of money from wealthy families.
It has a main altar covered in gold leaf, a side altar of silver, and over 40 side chapels built by wealthy families.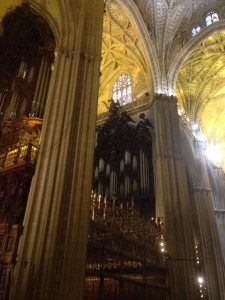 One of Christopher Columbus's tombs is in the cathedral. When his coffin was returned from Cuba, it contained only one finger bone, so the joke is may he rest in peace and pieces.
The real surprise of the day was the Real Alcazar built by the Moors but rebuilt after the Christian re-conquest of Sevilla in 1364 by Peter I and expanded by subsequent Spanish monarchs.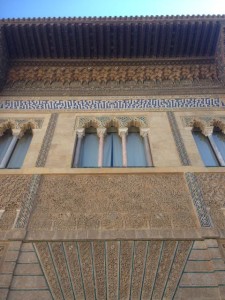 Peter loved the Moorish style and built his palace using Moorish motifs from the Alhambra (including Islamic designs and phrases). It is more stunning than the Alhambra because the palace and gardens are more extensive and more welcoming spaces.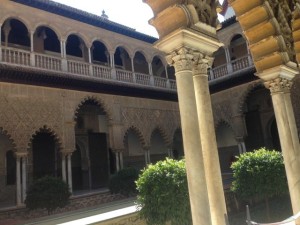 Private courtyards open off of almost every room.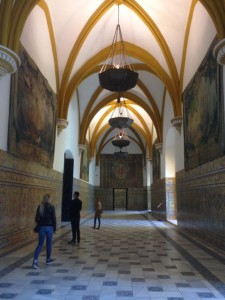 The sections of the alcazar built by later monarchs have elaborate tile walls with tapestries hung above for warmth.
The gardens are the most extensive I have ever seen and were used in the filming of Game of Thrones.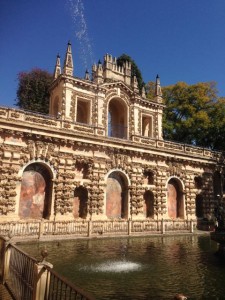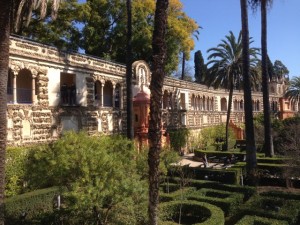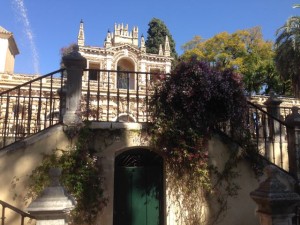 After hours of exploring one spectacular garden after another, we had an aperitif at a garden cafe and were treated to a peacock display.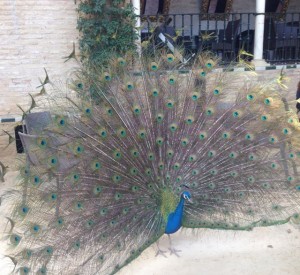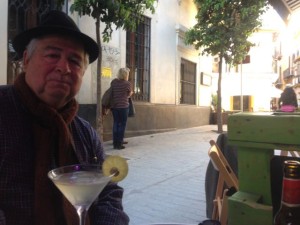 After leaving the gardens we wandered the charming narrow streets of the old Jewish quarter, renamed Santa  and managed to find both a good dry martini and a great gin and tonic.