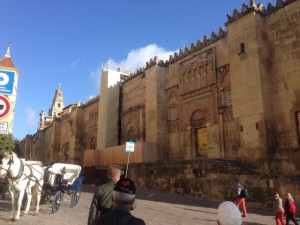 The great mosque of Cordova was begun in 786, so it is one of the first mosques ever built.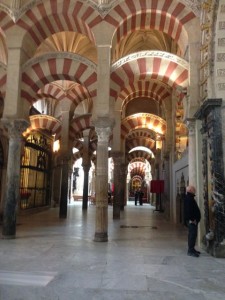 The columns, which have different bases and capitals, were recycled from Roman temples (for 700 years southern Spain was a Roman colony).
Although there are few remains from the Visigoth period, (which followed the Roman period), there is one mosaic floor on display in the mosque.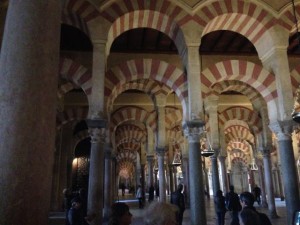 In order to raise the height of the mosque, they took the double arch idea from Roman aqueducts and topped the pillars with alternating red brick and white limestone arches that were flexible and therefore withstood earthquakes. In 929 Cordoba became the capital of the western Islamic world. The mosque was expanded four times in the 8th, 9th and 10th centuries as the population increased, eventually covering 20,000 square meters with 1,013 columns. Twenty thousand people could worship here at one time.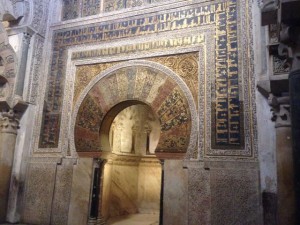 At the end of the 10th century, the Christian emperor of Constantinople sent Bysantine mosaics as a gift to Cordova and they were installed using Islamic designs and styles. Under the Islamic rule in Al-Andaluz, the three religions coexisted.
When Ferdinand III re-conquered Cordova in 1236, the mosque was re-consecrated as a cathedral, the great arches on the exterior were enclosed, and private chapels were built by wealthy families around the exterior walls.
Charles V destroyed the middle section of the mosque in order to build a cathedral, reducing the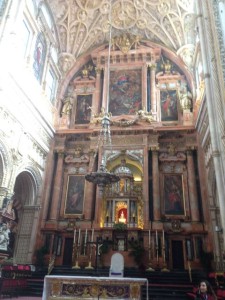 columns to 856.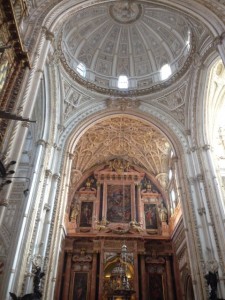 In the end, he regretted his decision, saying that he had destroyed something unique to create something mundane, but it is thought that by acting as a flying buttress in the middle of the building ,the central basilica helped the building withstand the devastating earthquake of 1755 that destroyed much of Lisbon and southern Spain.
There is little doubt that what makes the Cathedral of Cordoba so unique is that it represents the cross section of cultures and architectural styles of the people who have inhabited the area since the 8th century BC.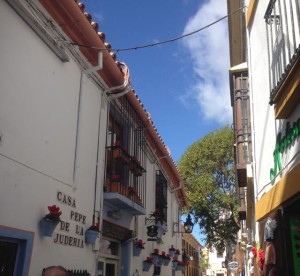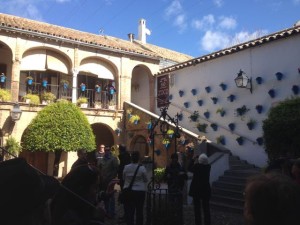 The streets of the old Jewish quarter are barely four feet wide and wind in maze like patterns. Most of the buildings are whitewashed, with interior courtyards and walls decorated with blooming flowerpots. Although the remains of one of the oldest synagogues in Spain is located in Cordova, there is no longer a Jewish population here.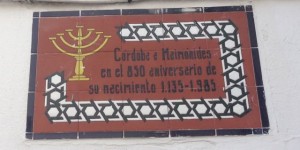 There are, however, three new mosques in Cordova, as a sizable portion of the population is Muslim.
Meimonides was born in Cordova in 1135 but spent much of his life in Morocco as a doctor to the Sultan.